At the recently concluded Grammy Awards, report has it that Drake' microphone was cut off while delivering his acceptance speech for Best Rap Song, Pitchfork.com reports.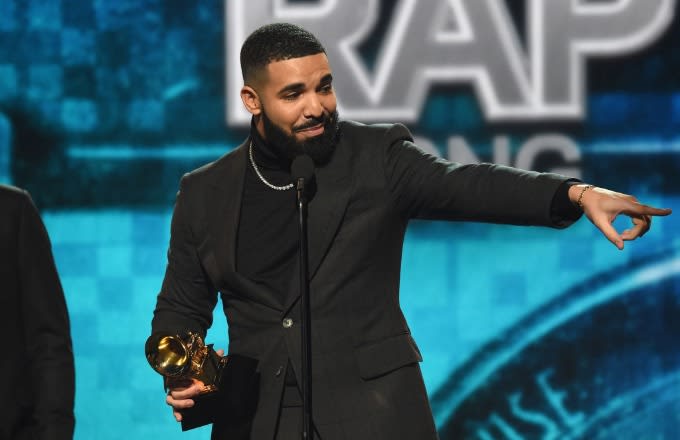 It was revealed that before the microphone went off Drake had concluded his speech which says: "You've already won if you have people who are singing your songs word for word, if you're a hero in your hometown, if—look, look—if there are people who have regular jobs who are coming out in the rain, in the snow, spending their hard-earned money to buy tickets to come to your shows, you don't need this right here. I promise you. You already won."
The evening after the event, Drake took to his Instagram page writing: "Too raw for TV 📺 😂."
A source from the Grammys elaborated the misinterpreted action to the Hollywood reporter stating; "Drake took a natural pause in his speech, which led producers to believe he was finished so they went to commercial,"
"Since it seemed as if he had more to say, Grammy producers spoke with Drake immediately following his acceptance speech and offered him the opportunity to complete his speech. Drake stated that he was actually finished with his speech and happy."
Reports gathered a representative of Drake said: "Producers did speak with Drake following his speech and did offer him to come back onstage to finish whatever his thoughts were." The rep also said, "Drake was happy with what he said and had nothing else to add to it."
The American singer won Best Rap Song for Scorpion's "God's Plan." It was his sole win at this year's Grammys; he was up for seven awards.